Ergonomic workstations and assembly tables
Good ergonomics are a necessity in the modern workplace. Proper ergonomics are achieved through cooperation between BST and the operators who are to operate the work station. Through our many years of experience constructing production equipment, we have gained great insight into implementing good ergonomics into our designs.
Contact Carsten Bleicken for a non-binding offer.
Assembly tables
PEHAMA builds high-quality assembly tables for professional industry. All of our assembly tables are made of strong and stable aluminum profiles. We use only the best materials for our countertops, light and lifting columns. The selection consists of 3 types of standard tables, with 1, 2 and 4 columns respectively, that are available with or without gallows and shelves. All tables can be individually adapted depending on purpose and needs, and come with various accessories.
Contact our sales department for more information and help in designing your assembly table.
Click the link/photo to the right and read more about our flexible assembly tables.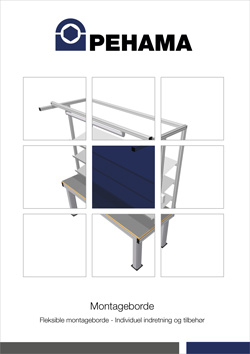 Customized Assembly tables