ProFeeder assembly cell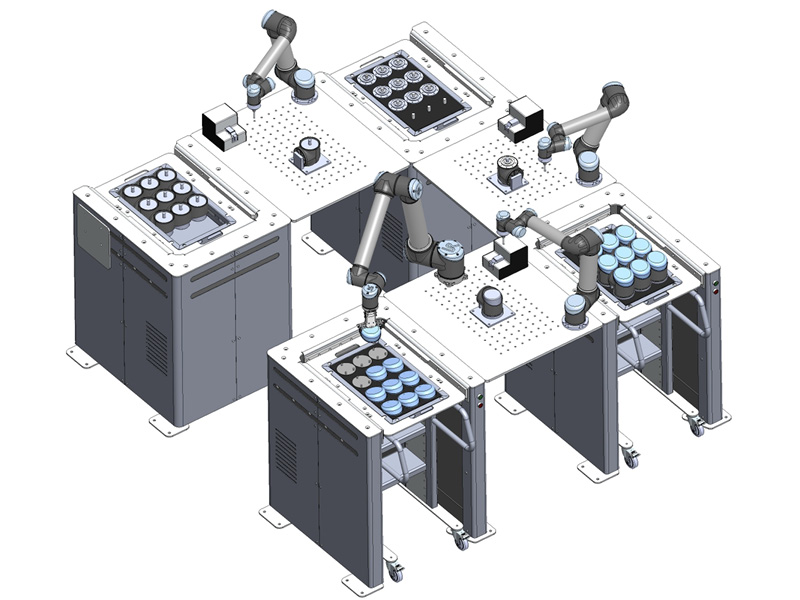 Flexible assembly cells
The ProFeeder module can be included in all types of assembly cells; the module makes it easy and flexible to modify the set-up of the assembly cell and to assemble or move engraving machines, fixtures for parts, tool flanges with turning module, deburring or cleaning, screw machines, measuring equipment, side tables or holders for control panels.
The set-up of the assembly cell can be quickly changed by moving the ProFeeder module on a pallet truck and the robust rail system along the sides of the ProFeeder makes it easy to move the robotic console to a new position.
The mover with the flexible parts drawers provides both a steady flow of sub-components for the automatic assembly process and, following the assembly of the parts, the mover then makes it easy to remove the finished products from the assembly cell.
The assembly tables between the ProFeeder modules in a u-cell configuration can, e.g., consist of a perforated plate for the assembly of fixtures or screw stations. If you need a special solution for the assembly cell, we would like to assist you with the development.
The ProFeeder assembly cell can be delivered with fixtures and screw machines that are ready to use.
Start with a single robot and a ProFeeder, allowing you to continuously expand and improve the automation of the assembly.