ProFeeder Light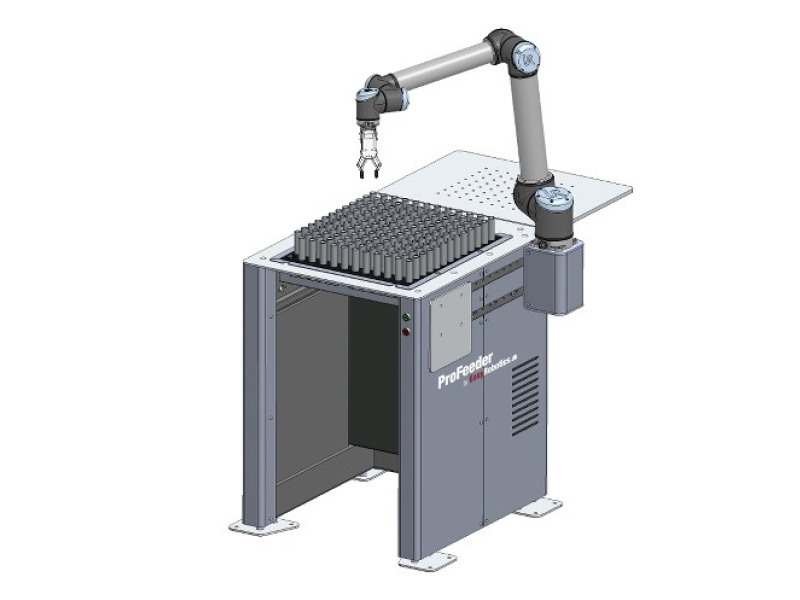 The 1st step towards robotic automation
ProFeeder Light from EasyRobotics is a mobile and compact modular robot cell that can be easily moved around in production, by the use of a pallet truck, and placed next to various processing machines.
The solution is the first step in the ProFeeder series towards a fully automated 4-shift operation. ProFeeder Light is suitable for small series production and, with an increased need for automation and efficiency of production, it can be expanded to either the ProFeeder or ProFeeder Multi solutions. The modular concept is an affordable and quick way to get started with robot automation.
ProFeeder Light comes with 1 manually movable parts tray that is easy to replace, handle and set up parts [items]. Once the parts have been processed, the operator empties the parts tray and refills it again.
The parts tray can hold up to 780 parts and is designed to accommodate all types of parts and can be replaced with thin-plate feeding.
If you need a custom solution, it can be developed in cooperation with you and our engineers.
Patent pending.
Your benefits
Uniform and high-quality products.
Easy switching between small series.
Increased machine productivity.
With ProFeeder Light you can take the first step towards starting a night shift.
Establishing a fully automated production can take place gradually, in line with the development of your company.
The manual operation of the machine is reduced to simply filling and replacing the parts tray.
The payback period is around 6-8 months, but often shorter, depending on the operating time.
Advantages of ProFeeder Light
Quick setup.
Optimised production of a small series.
Can be used with most types of processing machines.
A mobile and compact robot cell that is easy to move around with a pallet truck.
The compact design allows easy access to the CNC machine and the milling machine.
Can be used as an "extra pair of hands" during peak production or when there are additional orders.
The robot can be placed on all three sides of the robot cell, providing a high degree of flexibility relative to the location of the cell next to the CNC machines.